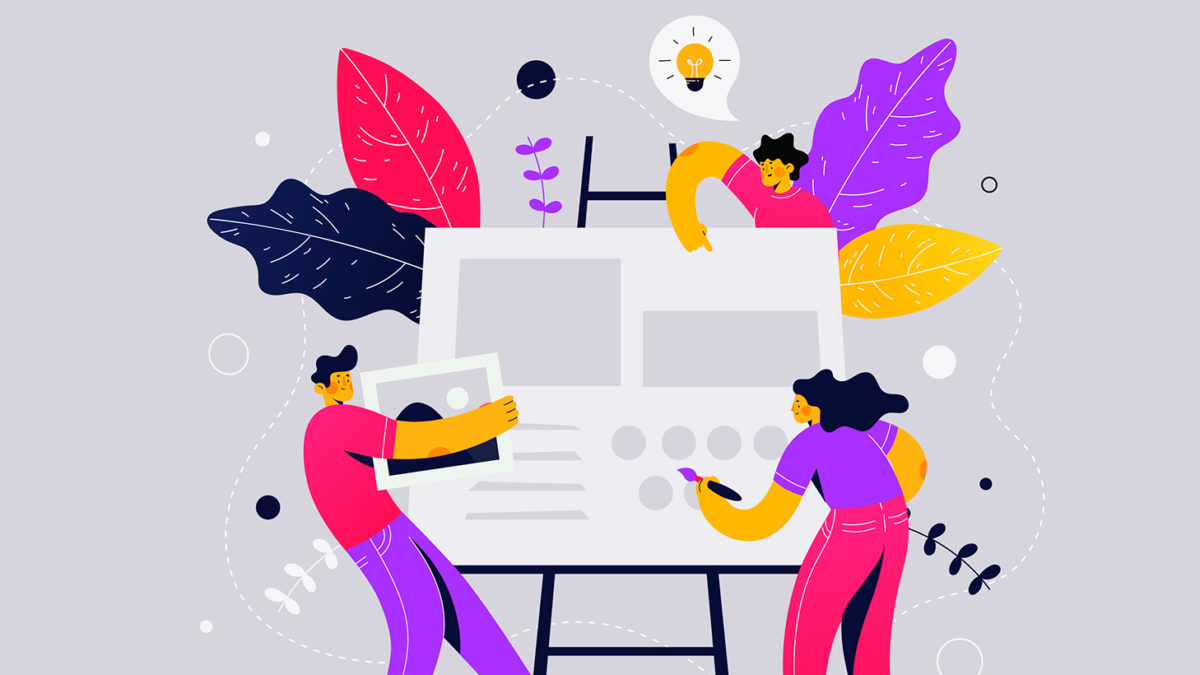 TOP 20 web design trends 2020
Trendy web design has become increasingly interested in specialists working on creating unusual projects for leading companies and famous brands. Outdated visualization techniques are a thing of the past, giving way to new relevant ideas. We will figure out what trends became top in 2019 and will be so in 2020.
1.Combination of daring tones
Now it's fashionable to use rich and vibrant color schemes. The main thing is the appropriate use and harmonious combination of shades, the use of additional techniques for their search.
2.Duplex technique
The design in the framework of two colors and their midtones looks stylish and in general is very worthy. New-fashioned technology has already gained popularity among leading web designers. Such an innovative technique is often implemented when rebranding is necessary in a short time, leaving the whole concept and structure of the site unchanged. Such a minor addition will help to update the site literally beyond recognition.
3.Soft multi-tone gradients
Gradient has lost popularity in recent years, but in 2018 returned in an updated version. Soft transitions of saturated or muted tones are a real trend of the current year. The most stylish are two-color gradient transitions consisting of harmonious shades.
4.Textured details
To make web design interesting, you can use an additional mix of textures. Metal and wood are the most popular options.
5.Minimalist appeal
The concept of simplicity allows you not to distract the user from the main thing – the study of basic information. Concise design solutions are used for background and additional elements. The white background continues to look appropriate in most projects. Monochrome (when the background and the main object are identical in color, differ by shadow) is also a fairly effective technique.

The absence of superfluous elements allows the user to take actions faster, immediately proceed to immediate action, and not be distracted by excess decor. A simple design can look better than a lot of heavyweight layouts.

The rejection of elaborate elements is dictated by the behavior of web users, who can regard a pile of decorative techniques as a deception or a way to hide pitfalls.
6.Presence of movement
In modern website design, three-dimensional typography, Gift-pictures, animation are widely used. Updating reality, familiar things with the help of 3D elements is a modern trend, which is popular in leading IT companies.

    3D typography makes the web space come to life, concentrates the attention of visitors, favorably distinguishes the design from the background of others. Similar details are used in logos;
    cinemagraph (when not everything comes to life in the picture, but only a separate element). An example of a spectacular demonstration of a reception can be a photograph of a dish posted on the website of a cafe or restaurant, from which steam rises. The effect of freshly prepared food is created, which stimulates the appetite and the desire to try it immediately. Cinemagraphic reception allows you to create the effect of watching a video, while maintaining high platform performance, because this trend will not significantly affect the download speed.

Animated scenarios are everywhere in the web space; they force platform users to take an action – click (like, go to a page, purchase a service or product). Therefore, 3D components increase conversion and help to personalize the appearance of the website.
7.Light animation over the background
Moving bubbles, atoms, waves can make a resource interesting without a lot of time. It is important not to overdo it so that they do not distract attention, but complement the general idea to present the idea of "simple and tasteful".
8.Volume magnetism
With the help of well-chosen shadows, flat objects can be made voluminous and as attractive as possible, placed in a niche of the overall composition or moved forward from the background image.
9.Selected photo material
Key components of web design are elements that help convey information without words. Photo is one of these components that require creativity. They look trendy:

    extraordinary photos in an unusual setting;
    photos combined with drawn elements;
    pictures with real text blocks (signs, plastic letters, stands, plates, posters);
    real photos without processing and staging scenes (honesty in the photo is appreciated this year, at the peak of popularity, photos taken spontaneously in a relaxed atmosphere and natural setting);
    unique panoramic photos on the main page can captivate the visitor, arouse genuine interest in the company / product;
    color-gel photographs – a unique technique for creating unusual photos using colored light sources. The incredible effect is appreciated because of the result that is already present in the photo, it can not be achieved when processing photo material.
10.Creative doodles
Hand-drawn illustrations give the site a special charm, style and atmosphere. There is no place for proportions and clarity. Rough lines, sloppy strokes, careless inscriptions, brush strokes can be found in the design.
11.Strict brutalism
A special way of demonstrating a product in a brutal style is worthy of attention, where square, rectangular shapes are mainly used to express stiffness. The lack of smooth lines is another feature of the style. The lack of abundance of small elements also serves as a hallmark of brutalism. All blocks in this style are usually created in large size, a discreet palette of colors (white, black, brown, gray), classic bold fonts, catchy large headers are used.
12.Soft designer charm
The opposite of the previous trend is an exquisite combination of smooth lines, soft shadows, pastel colors. "Lightweight" web design attracts airiness, gives the look a rest, does not cause user irritation.
13.Return from the past
Patterns and a color palette, fashionable in the 80-90s, are actively traced in modern times. We are talking about sharp contrast, acid tones of the interface, background, buttons.
14.Creative loading screen
The transition between pages is an integral part of the behavior of the interested user. Web designers strive to make these seconds comfortable for the user. To interest the visitor, they actively get rid of boring and outdated loading screens, introducing unusual options. Such inventions make the platform highly unique.
15.The practicality of three-dimensional objects
Useful interactive elements can make a web resource popular. 3D fitting rooms in online stores of clothes, shoes and accessories are a way to examine a thing in detail from all sides. Such a novelty is multifunctional, solves many problems:

     attracts the attention of buyers;
     increases profit (users are more likely to purchase a thing that they could carefully consider);
     makes the site exclusive, improving its appearance.

3D experiments are time consuming, but they are worth it.
16.Parallax – decoration with meaning
Paralax is the undoubted trend of web design. The smooth transition from one part of the image to another looks bewitching due to the unexpected change of picture. It may be an acceptable solution for web resources of different directions. This option is most useful when choosing a successful thematic photo.
17.Experimental fonts
Geometric, custom font – hit of 2018. In addition to the type of font, experiments with text direction are also in fashion. Recently, cases of developing custom fonts have become more frequent, because inscriptions and texts are able to intrigue and demonstrate the key advantages of a product / service.
18.Miniature video block
A video on an online resource is a fashionable way to present information. Statistics have shown that users believe: it is better to see once than to listen many times. The video block should be short, information-intensive, shot in such a way that when it is repeated, the boundary between the end and the beginning of the video is hidden as much as possible.
19.Panton – color 2019-2020
Ultraviolet light is recognized as the No. 1 color this year. It is based on a combination of blue and purple, resulting in a color of stunning beauty and depth. Lavender, lilac and purple are also in trend. These colors evoke attention and promote high concentration.
20.Interaction of the website elements with the user
Practicality is a trend without which a harmonious and visually appealing website will not be able to keep its visitors. Web design should be functional: adaptive, contain useful options (online chat, search).
The presented trends are implemented in different ways, rarely intersect, since each of them is a self-sufficient idea for developing a worthwhile project. In some cases, mixing and creatively processing two or three of these trends helps create a truly memorable design.

The choice of combinations depends on the idea and direction of the web resource, as well as the talent and vision of the web designer. The intended style of the final product is also worth considering for an impressive result (if you intend to create a specific design in an eclectic, avangard, futuristic style, its structure and components are easier to think through at the development stage).