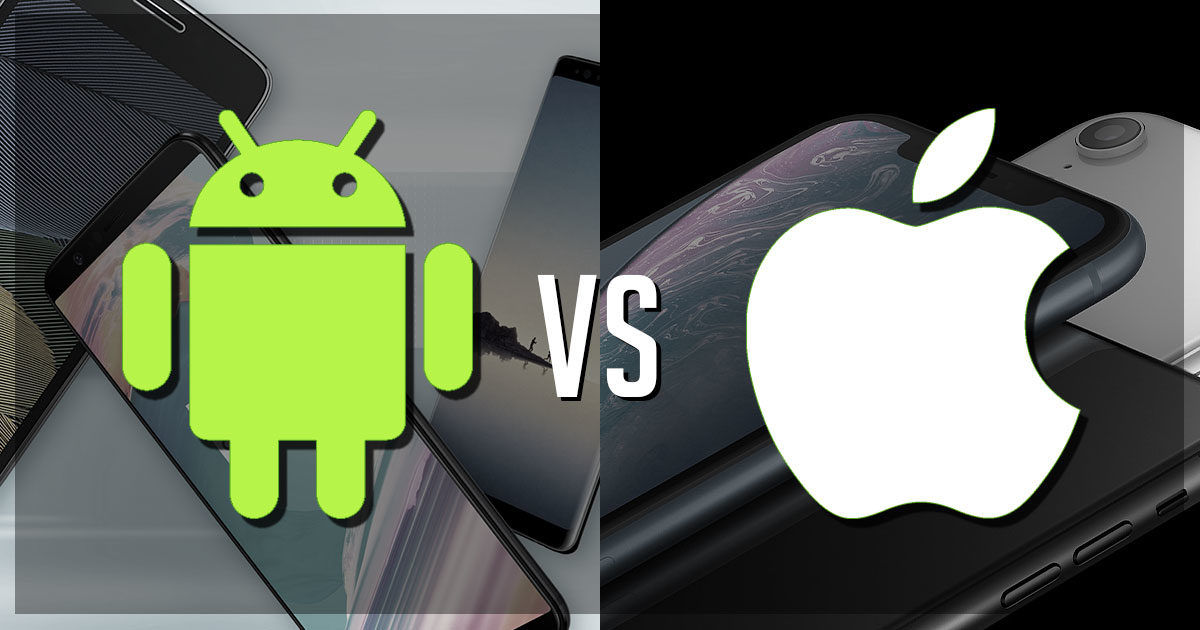 iOS vs Android: what is better for a business project
This article will be helpful for those who are planning to create a mobile application and thinks what is better: iOS, Android or two in one.
Most of mobile phone owners can be divided into two camps: passionate iOS fans and Android lovers.
So we will try to understand all the alternatives, based on the interests of each platform audience and start with an obvious option – 2 in 1.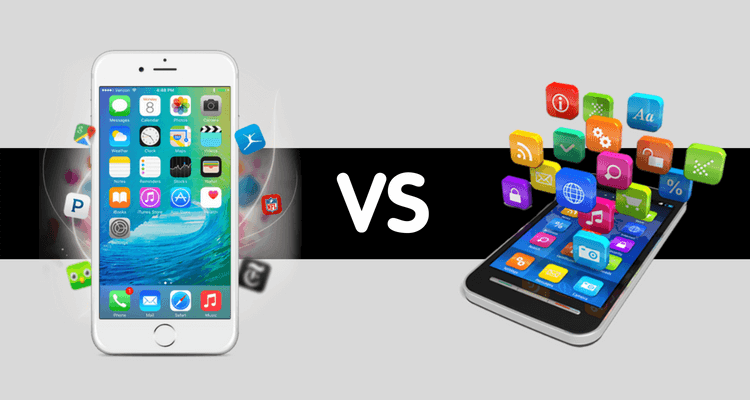 What could be better than a hybrid solution?
If you need a very fast market test, then would be optimal to use a hybrid solution. It works on any platform and loads like a normal web page in a smartphone browser.
But a hybrid application it is always a compromise between meeting the requirements of different OC standards. Some problems with its use are simply inevitable.
Conclusion: Depending on the OS that your target audience uses, it is more rational to concentrate on one of the platforms.
Android and iOS: differences in user preferences
Price
Most iPhone owners are business or high-income people. For them, the price of a smartphone doesn't matter. They are ready to buy an expensive model with the latest version of the OS.
An average Android user will rather choose a reliable phone for a reasonable price than wait for a pre-sale of the latest phone.
Prestige
There are people who choose iOS, not Android, primarily because of its premium market positioning. For them, the most important thing is to confirm their social status.
At the same time, Android is chosen by those who need a reliable device, and it doesn't matter which brand name is written on its box.
Quality
Apple's design and hardware have always been on top, whether it's a smartphone, tablet, or laptop. In addition to functionality, Apple developers always pay great attention to security issues when exchanging data between applications.
In general, the quality of Android gadgets is not always high and depends on the manufacturer, which is easily explained by the variety of solutions on this platform, which covers all price segments.
Historically, Apple was the first company, which introduced advanced technologies and attracted the pickiest audiences. However, after the release of Samsung flexible smartphone, the iPhone's market position started to be in danger.
Business tips for choosing a platform
Development speed
IOS development takes less time, as it is a platform designed specifically for mobile devices:
the testing process is faster, since there are really few iOS phones compared to the multi-brand variety of screens on Android smartphones.
some features, such as AR / VR integration, can be easily implemented in iOS12-based applications.
Apple developers are constantly improving the integrated development environment (IDE) so that it is convenient for programmers to use it. As well this allows you to implement the most advanced technologies, such as augmented and virtual reality (AR / VR) in native applications on iOS.
Android, as a source for development, is filled with conflicting requirements that you can face on both: desktop and mobile systems. Every day, hundreds of companies and individuals contribute to its open libraries, so it's easy to get lost in the number of different tools or catch a bug without significant development experience.
However, a well-written native program for Android or iOS is a worthy acquisition for your business.
App store
The total number of applications published on the Google Play Store for Android is 2.1 million.
About 1.8 million are available for iOS.
Total downloads reached 17 billion for Android and about 7 billion for iOS.
The amount spent on the App Store is about 11 billion dollars.
More than $ 5 billion users spent on the Google Play store.
To publish your program on the Google Play Store, you must register as an Android developer and pay $ 25 each time you publish the application.
iOS App Store has an annual subscription that costs $ 99.
The most important difference between Apple store and Google Play is the process of publishing the application.
App Store has strict rules and doesn't allow you to publish the application. It takes about a week. For users this is an additional guarantee of quality.
Approval on the Google App Store may take less than one business day. Applications are tested automatically and then appear for a public download.
Monetization
Each platform has its own approaches for applications monetizing. What is great for Apple users will not motivate owners of Android smartphones.
For example:
According to statistics, iOS users are more likely to spend money on paid versions or make purchases in installed programs. They are well-off and know what they want. They demand perfect quality from the applications that they use.
Android devices are bought most as a budget solution. And users themselves spend less money in app stores.
The best monetization models: pop-up ads and freemium.
iOS vs Android which one is better?
No one knows your customers better than you. Therefore, general answer for the question: «iOS, Android which is better? » simply doesn't exist.
If most of your customers use Android, then this is the right choice for you. The same thing works from the other side: if more than half of your customers use iOS, choose a development for it.
Having almost a decade of experience in developing of Android and iOS mobile applications , we in AppSoft are ready to discuss your ideas and find the best solution together. Contact us now.