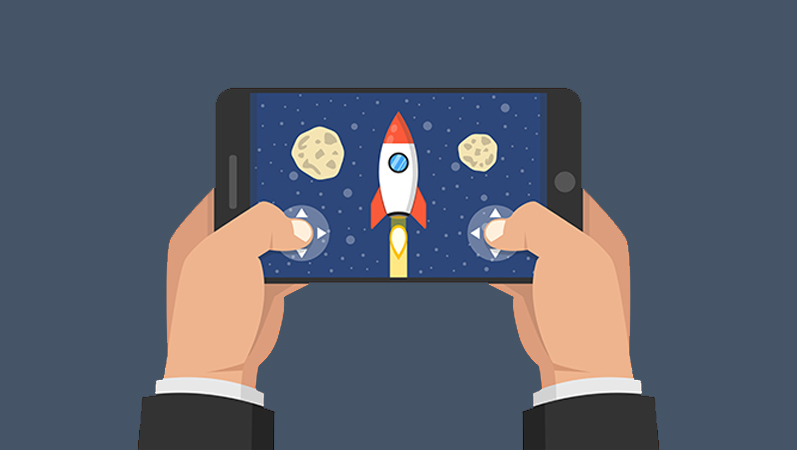 Mobile games in 2020
In recent years, the mobile games market has shown rapid development, and significantly ahead of the demand for desktop versions. A few years ago, experts claimed that by the end of 2019, mobile games will make up 60% of the total market profitability, and they were not mistaken.
Growing popularity of mobile gaming applications
Today, many popular IT companies have focused on the development of mobile games, since the demand for them is at a high level and almost every second developer switched to creating gaming applications. The hobby turned out to be so widespread that even social networking platforms such as Facebook, Instagram and Twitter, began to develop innovative mobile games, considering them a driving force in attracting users to their sites.
The functionality of modern mobile phones has become a kind of mini-computers, offering owners great opportunities for online games on various gadgets, for which it's enough to have:
Screen with good resolution and high color rendering;
High speed internet;
Built-in browser;
Touchscreen;
Access to gaming application stores.
The competition in the global gaming market for gameplay is extremely high, and companies are forced to look for innovative tools and technologies to offer their customers the most convenient platform. Developers of game content have a difficult task – to create a unique and modern solution that will be interesting to game lovers of different age categories.
Every year, new technologies, functions, tools appear on the mobile games market and new trends are noted. The main goal of each company specializing in the development of gaming applications is to create an advanced platform that can fully satisfy customer requirements.
On September 19, 2019, Apple launched its new Apple Arcade gaming service by subscription, following the iOS 13 update for iPhone, giving users access to a one-month free trial.
Apple Arcade offers dozens of games for a monthly payment of $ 4.99, which were appreciated by fans of game content during the beta test, launched a week earlier. Although a little more than 50 games were available at the testing stage, many of them relate to the new generation of games and Apple claims that new items will appear weekly, and at least 100 games are in development.
Also, the cost of Apple Arcade at $ 4.99 / month provides access to game content for up to six family members.
A special Apple Arcade tab has been created for the new service in the App Store on the navigation panel, and all games are divided into different categories, including:
"Start your adventure";
"You must hear it";
"There is no time to yawn";
"New arrivals" and others.
The Apple editorial team highlights the most popular Apple Arcade games, but any user can choose any other game that best suits their preferences using the search engine by name.
In the near future, Apple Arcade will be available on the iPad, after the launch of iPadOS. Analysts are already predicting the high popularity of this service, and developers are interested in the fact that their game applications get into Apple Arcade. Given Apple's multi-million fan base, this could have enormous potential.
Main trends in the development of the gaming market
The main factor in the development of game content is maintaining the perfect balance between high-quality functionality and attractive design. No less important role is played by advanced features that allow us to improve the interaction of players on the platform and make the game more sophisticated and impressive.
Based on user experience and market demand for game content, the following main trends can be distinguished that will determine the future of the gaming industry in 2019 and 2020 and will form the demand for mobile games.
Hyper casual games
The growing popularity of "hyper-casual" games with an extremely simple and intuitive interface that almost everyone can play, from children and housewives to advanced gamers, remains amazing. An analysis of the mobile games industry shows that an increasing number of gaming software providers are interested in creating such games. Some do it on their own, others by absorbing smaller competitors, because the struggle in this area for the acquisition of new users promises to be very fierce.
Use of VR and AR technology
The use of VR in the field of mobile games has already become familiar. Now many large companies are interested in entering the AR arena, including Google, which introduced the ARCore platform for developers of applications for Android, and Apple, which launches its ARKit, promising to become the largest AR platform in the world.
Many games have found a new life thanks to VR and AR-technology
Augmented reality is currently the best way to provide users with the most requested content, and many brands expect AR to remain relevant for a long time to come. Many games that have been popular in recent decades have gained new life because of VR and AR technologies, and round-the-clock access to game content, gives great prospects for their use.
App Store Market Trends
One of the most obvious trends in the field of mobile games that has emerged today is the fact that many game content creators have decided to confront giants such as Google and Apple, who charge a commission fee of 30% from application developers for placing in their stores.
The first precedent happened with the gaming company Epic Games, which removed its legendary Fortnite game from the Google Play Store, deciding to create its own store and allow its users to download this game without paying any interest to Google. For other developers, the company offered a commission of 12%, which is significantly lower than the fees Google and Apple.
This use case may become one of the most interesting trends for future gaming applications, opening up new, more profitable opportunities for users and developers.
Monetization of mobile games
Each developer is interested in earning income from his application and finding new ways to monetize his game, while eliminating the charge for downloading, so as not to scare away a potential user. One of the alternative monetization strategies is the use of mobile advertising in various formats, including:
Reward for watching videos, where the level of user engagement reaches 92%;
Video ad revenue
Using wall suggestions while viewing applications.
These tools allow application developers to earn extra income without scaring potential users with high prices for downloading the application.
In addition, every time they download a new game, users leave valuable information, such as name, age, email address, phone number and other data that are a true treasure for the digital industry. Analysis of this information helps to uncover many ideas that companies can turn into millions of dollars. This trend can be a very effective tool for generating revenue for publishers and application developers.
Social Media Platform Integration
Nowadays, a fairly large group of people regularly use social networks to communicate with friends and like-minded people, creating numerous interest groups. Here, many not only communicate, but also invite friends to join their games, interact to achieve higher positions in the game and share news with friends.
This requires a multiplayer function, which will allow all players to interact effectively. Often people spend a lot of time on different social networking platforms, and the use of this trend will allow game developers to attract a large enough audience of potential users through the integration of their applications.
Cloud games
The development of cloud games has become a new trend in the gaming industry, for which there is a very great demand. Many people prefer cloud games for a number of reasons, including:
Quick access to game content;
There is no need to take care of the storage location;
No need to constantly download the game;
The ability to play live games.

This is the best way to use innovative technologies, the only requirement for which is a smartphone and an Internet connection. Although, in my opinion, in 2020, cloud games will not be beaten out as leaders in the gaming industry, but they have far-reaching development prospects. It is possible that Apple will be able to attract a new audience to the Apple TV as a gaming console through cloud games.
Reach all age categories
The times when developers focused on certain user groups have long been left behind, and now creating games for a certain category of users will be a big mistake for the developer. Each game should cover the largest possible circle of people, among which may be:
Girls and boys of any age,
Housewives
Business lady;
Workers and office employees;
Elderly people.
Targeting by age will be a huge mistake, because children and the elderly have a lot of free time to spend it in an exciting game.
Summary
These mobile game development trends will change the future face of the gaming industry. An advanced gaming platform should provide exciting and fantastically attractive gaming features. Of course, the list of influential trends will expand over time depending on market demand.
Mobile application developers must have professional skills and sufficient experience to create a modern application that meets the requirements of the market, otherwise they risk getting a game that is not much needed.
There is no doubt that in the coming years new changes will occur in the gaming industry market, where new strategies, reliable solutions and attractive technologies will be applied, but today, developers should pay attention to the above trends.